Thousands attend Puerto Rico LGBT rights march - Washington Blade
- 5/18/2013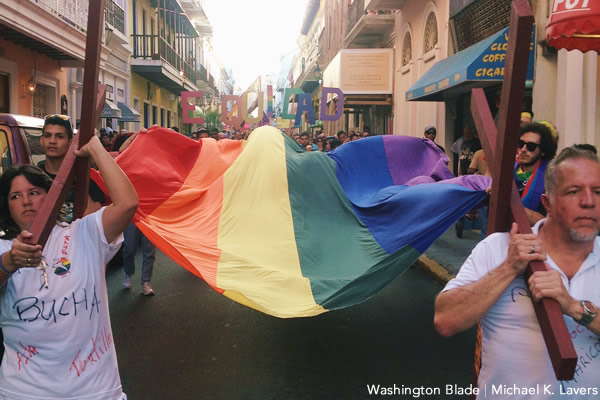 SAN JUAN, Puerto Rico – Thousands marched through the streets of the Puerto Rican capital on Friday in support of LGBT rights.
San Juan Mayor Carmen Yulín Cruz and Sen. Ramón Nieves Pérez, who sponsored the sweeping anti-LGBT non-discrimination bill the Senate on Thursday passed by a 15-11 vote margin, unfurled an LGBT Pride flag from the balcony of City Hall as marchers passed. She stood with members of Butterflies Trans Association, a trans advocacy group, while wearing a white hand band with the word "equity" on it as she spoke from the steps of the Puerto Rican capitol at the end of the march.
"I say from the bottom of my heart to those who are listening to us — all of Puerto Rico; we are all equal," Yulín said.
Alicia Burgos, the mother of Pedro Julio Serrano of the National Gay and Lesbian Task Force, and his father spoke to marchers from the back of a pick-up truck that stopped near Plaza de Colón in Old San Juan.
"We are marching against homophobia," she said.
The Puerto Rico Supreme Court in February narrowly upheld the island's ban on gay second parent adoptions in response to the case of Dr. Ángeles Acosta Rodríguez who sought to adopt the child her partner of 25 years, Dr. Carmen Milagros Vélez Vega, conceived through in vitro fertilization. Vélez received a standing ovation from the adoption measure's supporters who attended the hearing after she finished her testimony with her partner and their 12-year-old daughter by her side.
A third bill that three representatives introduced earlier this year would add sexual orientation and gender identity and expression to the island's anti-domestic violence laws.
Advocates continue to point to the three aforementioned bills as significant movement in support of rights for LGBT Puerto Ricans since Gov. Alejandro García and Yulín, who issuedtwo LGBT-specific executive orders on Monday, took their respective offices in January. In spite of this progress, they maintain anti-LGBT discrimination and violence remain rampant throughout the island.
Yulín and others who spoke during the march referenced Jorge Steven López Mercado; a gay teenager whose decapitated, dismembered and partially burned body was found dumped along a remote roadside near Cayey in 2009. One march participant even pretended he was dead on the sidewalk in front of the Puerto Rican Capitol as others outlined his body with masking tape and placed evidence markers above rocks with anti-gay slurs written onto them.
"I, as the mother of a gay individual, say I am proud to be here," one member of the Butterflies Trans Association said as she spoke to the crowd from the steps of the Puerto Rican Capitol. "We are fighting as a movement to tell (lawmakers) that we are in search of a place where [LGBT Puerto Ricans] can be successful, a place where we can take care of our people."
Eduardo, who traveled to San Juan from Ponce with a group of 150 people, agreed as he spoke to the Blade near Plaza de Colón.
"We are here because we want equality," he said. "We want the same equality that everybody else has."
San Juan Mayor Carmen Yulín Cruz unfurled Pride flag at City Hall